Reach International's dedicated global opportunities team can facilitate your job search wherever in the world you want to work, equipping you with the support and advice you need to ensure your next career transition abroad is as smooth and successful as possible.
Reach USA
International Finance & Accountancy Jobs in the USA
The US has some of the world's most recognised tourist attractions, including the Statue of Liberty, Empire State Building and Grand Canyon. From New York City and Los Angeles to Orange County and California, the US boasts an array of exhilarating cities and stunning landmarks. Enjoying one of the highest per capita incomes in the world, the US has a population of more than 305 million. As one of the most sought after locations globally, the USA is also one of the toughest to enter.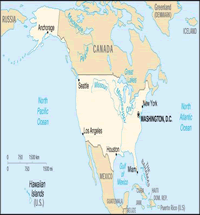 Land of the free, home of the brave, where everything is bigger and better, from the burgers to the measures in the cocktails. And judging by the opportunities on offer, the American Dream is alive and well.
When you've exercised your constitutional right to work, you can get yourself elbow deep in the wellspring of modern culture: the lights on Broadway, the Golden Gate Bridge, Highway 66, Bob Dylan, Cate Blanchett, Stephen Spielberg, Ronald McDonald, Kiehls, Friends, David Letterman. Need a rest? Take a Greyhound to Big Sur, pack some Kerouac and explore some of the most unspoiled scenery the world has to offer.
The US is the world's foremost economic and military power. It is also a major source of entertainment: American TV, Hollywood films, jazz, blues, rock and rap music are primary ingredients in global popular culture.
Click here for further information on Living & Working in the USA, Facts on the USA, Searching for a Job in the USA, and the Relocation Process, as well as other international and offshore locations to consider.
---
What Reach International can do for you
We have a dedicated, international team specialising in the recruitment of professionals across accountancy, finance, financial services and banking.
We are able to assist English-speaking candidates, from all countries around the world, with their overseas career search. Reach International has helped relocate professionals to overseas destinations from a variety of countries including the UK, Europe, US, Canada, Australia, New Zealand, Hong Kong, India and South Africa, to mention a few..
Our consultants have a detailed knowledge of living and working internationally and have spent time in each of the key locations. As a result, they are always available to offer first hand advice on relocating to a new country. At Reach International we not only help you find international positions, but are also available to offer advice about any aspect of a contract, a career or life overseas and can;
arrange video conferences
advise on work permits/visas
assist with travel arrangements for on island interviews, if required
negotiate the best remuneration package for you based on our knowledge of the local market
If you want to consider a career in United States of America, our team are ready to give you realistic and detailed advice on your prospects in the international employment market.
Explore further...